What Does Arby's Menu Offer to Satisfy Your Cravings?
Arby's menu provides a comprehensive dining experience with an array of beverages and delicious toppings. It offers a diverse selection, featuring a multitude of mouthwatering options, such as hearty meals, crispy and succulent chicken, slow-roasted beef, sliders, delightful sides and snacks, tempting desserts, and a dedicated kids' menu.
Individuals have their unique cravings and appetites to satisfy. All of the Arby's menu items are available in various sizes and flavor profiles, making it easy for customers to customize their orders to suit their preferences for breakfast, lunch and dinner and happy hour menu at Arby's.
Arby's Meals Menu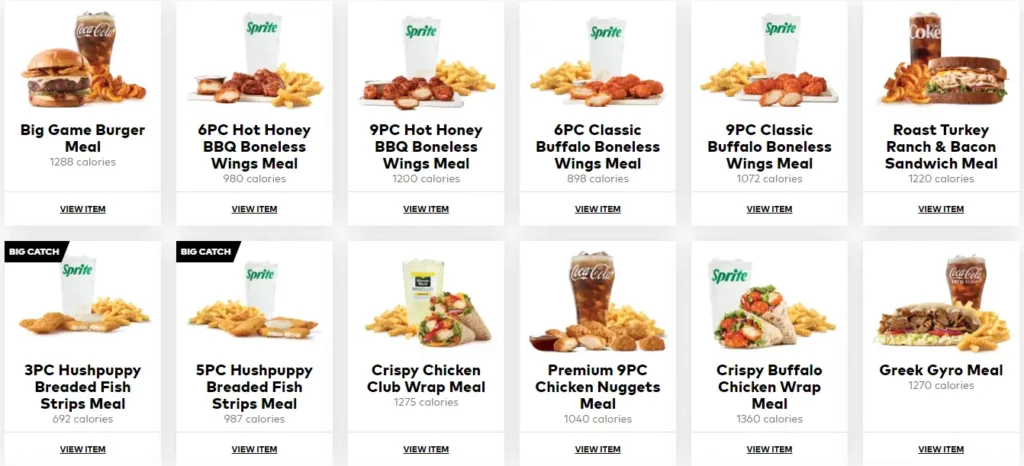 | Meal Item | Calories |
| --- | --- |
| Big Game Burger Meal | 1288 |
| BonelessWings HotHoney 6PC Meal | 980 |
| BonelessWings HotHoney 9PC Meal | 1200 |
| 6PC Buffalo Meal | 898 |
| BonelessWings Buffalo 9PC Meal | 1072 |
| Roast Turkey Ranch & Bacon Sandwich Meal | 1220 |
| BIG CATCH LTO Meal HP 3PC Sprite | 692 |
| BIG CATCH LTO Meal HP 5PC | 987 |
| Crispy Chicken Club Wrap Meal | 1275 |
| Meals Chicken Nugget 9PC | 1040 |
| Website BuffaloWrap Sprite Update | 1360 |
| Meals Market Fresh Gyro Greek NEW | 1270 |
| Meals Market Fresh Gyro RB NEW | 1110 |
| Meals Market Fresh Corned Beef NEW | 1250 |
| Website CBS Sprite Update | 1180 |
| Website CrispyChicken Fanta Update | 1080 |
| Meals Chicken Buffalo Crispy NEW | 1070 |
| Chicken Tenders 3PC Meal | 940 |
| Chicken Tenders 5PC Meal | 1180 |
| Meals Beef N Cheddar | 1020 |
| Meals RB Double Beef n Cheddar NEW | 1200 |
| Meals RB Beef n Cheddar Half Pound NEW | 1310 |
| Meals RB NEW | 930 |
| Meals RB Double NEW | 1080 |
| Meals RB Half Pound NEW | 1180 |
| Smokehouse Brisket Meal | 1130 |
| Meals French Dip | 1110 |
Limited Time Arby's Menu Offer
| Limited Time Item | Calories |
| --- | --- |
| Big Game Arby's Burger | 718 |
| Big Game Burger Meal | 1288 |
| 6PC Hot Honey BBQ Boneless Wings | 430 |
| $5 6PC Hot Honey BBQ Boneless Wings And Small Fry | 680 |
| $6 9PC Hot Honey BBQ Boneless Wings And Small Fry | 900 |
| 9PC Hot Honey BBQ Boneless Wings | 650 |
| 6PC Classic Buffalo Boneless Wings | 348 |
| $5 6PC Classic Buffalo Boneless Wings And Small Fry | 598 |
| 9PC Classic Buffalo Boneless Wings | 522 |
| $6 9PC Classic Buffalo Boneless Wings And Small Fry | 772 |
| 3PC Hushpuppy Breaded Fish Strips | 302 |
| 3PC Hushpuppy Breaded Fish Strips Meal | 692 |
| 5PC Hushpuppy Breaded Fish Strips | 437 |
| 5PC Hushpuppy Breaded Fish Strips Meal | 987 |
| 2 For $7 Everyday Value | 900 |
Market Fresh Item
| Market Fresh Item | Calories |
| --- | --- |
| Roast Turkey Ranch & Bacon Arby's Sandwich | 810 |
| Crispy Chicken Club Wrap | 880 |
| Crispy Buffalo Chicken Wrap | 790 |
| Greek Gyro | 700 |
| Roast Beef Gyro | 540 |
| Corned Beef Reuben | 680 |
Crispy Juicy Chicken
| Crispy Juicy Chicken Item | Calories |
| --- | --- |
| 6PC Classic Buffalo Boneless Wings | 348 |
| 6PC Hot Honey BBQ Boneless Wings | 430 |
| 9PC Classic Buffalo Boneless Wings | 522 |
| 9PC Hot Honey BBQ Boneless Wings | 650 |
| Premium 9PC Chicken Nuggets | 470 |
| Chicken Bacon Swiss Sandwich | 610 |
| Classic Crispy Chicken Sandwich | 510 |
| Buffalo Crispy Chicken Sandwich | 500 |
| Chicken Tenders 3PC | 370 |
| Chicken Tenders 5PC | 610 |
Slow Roasted Beef Arby's Menu
| Slow Roasted Beef Item | Calories |
| --- | --- |
| Classic Roast Beef | 360 |
| Double Roast Beef | 510 |
| Half Pound Roast Beef | 610 |
| Classic Beef 'N Cheddar | 450 |
| Double Beef 'N Cheddar | 630 |
| Half Pound Beef 'N Cheddar | 740 |
| Smokehouse Brisket | 560 |
| Classic French Dip & Swiss | 540 |
Sliders
| Sliders Item | Calories |
| --- | --- |
| Buffalo Chicken Slider | 257 |
| Chicken Slider | 227 |
| Jalapeño Roast Beef Slider | 177 |
| Roast Beef Slider | 167 |
Sides and Snacks
| Sides and Snacks Item | Calories |
| --- | --- |
| Curly Fries | 250 |
| Crinkle Fries | 250 |
| Mozzarella Sticks | 440 |
| Jalapeño Bites® | 290 |
| Premium 4PC Chicken Nuggets | 210 |
| Premium 6PC Chicken Nuggets | 310 |
Desserts
| Desserts Item | Calories |
| --- | --- |
| REESE'S Peanut Butter Cup Cookie | 463 |
| Salted Caramel & Chocolate Cookie | 430 |
| Apple Turnover | 430 |
| Cherry Turnover | 390 |
| Chocolate Shake | 539 |
| Jamocha Shake | 540 |
| Vanilla Shake | 477 |
Beverages
| Beverages Item | Calories |
| --- | --- |
| Market Fresh™ Classic Lemonade | 110 |
| Market Fresh™ Strawberry Lemonade | 148 |
| Market Fresh™ Peach Lemonade | 146 |
| Coca-Cola® | 150 |
| Diet Coke® | 0 |
| Coca-Cola® Zero Sugar | 0 |
| Sprite® | 140 |
| Dr Pepper® | 140 |
| Diet Dr Pepper® | 0 |
| Barq's Root Beer® | 150 |
| Minute Maid® Zero Sugar | 5 |
| Hi-C Flashin' Fruit Punch® | 150 |
| Mello Yello® | 150 |
| Powerade® | 80 |
| Unsweet Tea | 0 |
| Fanta® Orange | 150 |
| Bottled Water | 0 |
Arby's Kids Menu
| Arby's Menu for Kids | Calories |
| --- | --- |
| Premium 4PC Chicken Nuggets Kids Meal | 550 |
| Premium 6PC Chicken Nuggets Kids Meal | 650 |
| Chicken Slider Kids Meal | 610 |
| Roast Beef Slider Kids Meal | 460 |
| Honest Kids Organic Apple Juice Drink | 45 |
| Shamrock Farms Low Fat Milk | 90 |
| Shamrock Farms LowFat Chocolate Milk | 150 |
| Tree Top Applesauce | 45 |